Australia Property Market Forecast in 2021/2022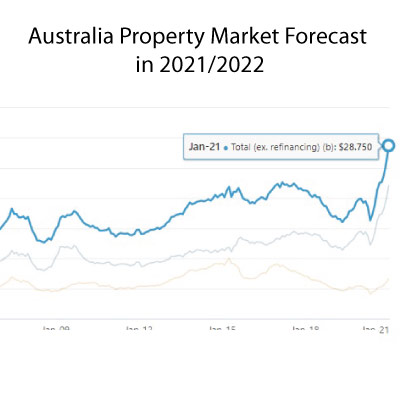 Australian housing prices look to be on a rocketing path even as summer comes to an end. Home prices grew an astonishing 2.1% in February (3% in Sydney) according to newly released housing market data.
New data from Abs.gov.au shows it is home buyers jumping into the market starting in January in droves. First-time buyers are adding to the price pressure.
Commonwealth Bank has forecasted that Australia's house prices will rise 16% over the next two years in what they're calling a housing market boom. CB's head of Australian economics Gareth Aird expects house prices will rise 9% in 2021 and 7% more in 2022.
Is this a House Price Bubble?
While housing markets in the UK, US and Germany are heading into boom periods, the suddenness of Australia's demand for housing at the end of the usual buying season is remarkable. A number of factors are driving the surge, including fear of missing out.
The rises in prices are deeply affecting housing affordability, as ever-popular Australia is one of the least affordable countries in the world. Sydney, Melbourne, Brisbane, and Adelaide are all ranked in the top ten most expensive cities to live in. Urban fringe housing development limits are being cited for the fast-rising price challenges in these cities.
February Homes Sales Data Australia (corelogic.com.au)
February's home price rise of 2.7% was the largest monthly rise in two decades. House prices have risen 4.4% over the last three months as the demand for space dominates buyers intent.
Home Prices in Australia 2021
And as buyers are able to take out home loans at such low mortgage rates, the competition for the limited supply of Australian homes is heating up.
---
The above articles is partly sourced from https://managecasa.com/articles/ by Gord Collins March 03,2021