$500m Coomera development sparks northern corridor growth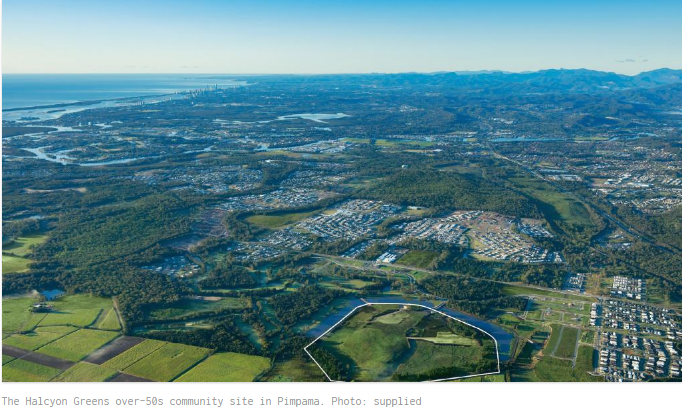 THE latest Urbis Market Outlook for Pimpama reveals the northern Gold Coast catchment accounts for $3.6 billion of the city's $11.4 billion in planned, existing and recently completed infrastructure projects.
The majority of projects are in the transport, health and sporting sectors and include the ongoing M1 upgrade, the duplication of rail between Coomera and Helensvale, and the $500 million Coomera Town Centre development.
It comes as prolific developer Halcyon gets set to launch its 500-plus lot Halcyon Greens over-50s community within the expanding Gainsborough Greens development, which is being delivered by national development giant Mirvac.
Halcyon joint managing director Bevan Geissmann says the imminent development of Coomera Town Centre was a major catalyst for further development in the northern corridor and would likely trigger further transport, health and educational facilities.
"Pimpama is located within one of Australia's fastest growing regions and is set to benefit from both future investment and existing infrastructure," Bevan says.
"It offers residents direct connections to the northern employment hubs of Logan, Brisbane and the Gold Coast while being surrounded by marine recreational areas, golf courses and major transport infrastructure.
"Pimpama's surrounding lifestyle amenity and transport connectivity between Brisbane and the Gold Coast is increasing its desirability as a location in which to live, work and play."
Bevan says Halcyon has its sights set on the area's baby boomer demographic, with Urbis finding that close to 16,000 baby boomers and retirees will move into the area over the next 20 years.
The research shows that the number of 50 to 75-year-olds would jump by 16,000 people by 2036, or 6.1 per cent per annum, compared with the wider Gold Coast figure of 2.1 per cent.
Residents aged 75 years and over would rise by 3,600, reflecting 8.2 per cent a year, well outstripping the city-wide figure of 4.5 per cent.
Bevan adds the company is bringing Halcyon Greens to the market at a time when the northern Gold Coast was experiencing unprecedented growth.
"It is part of the Halcyon model to identify sites that possess the fundamentals sought after by baby boomer buyers, such as proximity to retail, restaurants, health, transport and arterial roads," he says.
"When we do this early in the cycle it is even better because our home owners can enjoy capital growth that is bolstered by the delivery of new infrastructure.
"In particular, the shopping centre and hospital investment near the Halcyon Greens site gives home owners confidence in the value of their homes."
To date, Halcyon home owners who have sold have pocketed a collective $16 million in capital gains.
Under the Halcyon financial model, home owners retain all capital gains; there are no exit or deferred management fees.
Halcyon Greens is the company's seventh community in South East Queensland.