G:link light rail is on the move – Gold coast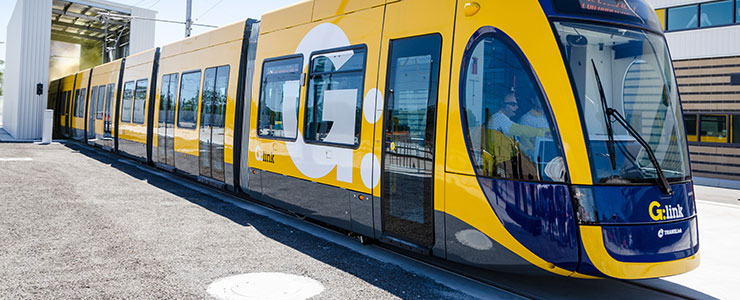 There's a new way to get around the central Gold Coast with the arrival of G:link, Queensland's first light rail system. From Sunday 20 July, fast, frequent trams will connect 16 stations along a 13 kilometre route from Broadbeach to Gold Coast University Hospital.
14 air-conditioned trams, each carrying up to 309 passengers, will operate every 7.5 minutes at peak times, from 5am to midnight on weekdays, and 24 hours at weekends (Friday and Saturday nights).
As well as providing dedicated space for wheelchairs and prams, trams also include a very Gold Coast feature – surfboard racks.
Ride the G: to some of the Gold Coast's major destinations including Griffith University, Southport CBD, Broadwater Parklands and the new Gold Coast Aquatic Centre, Gold Coast Convention and Exhibition Centre, and Pacific Fair. A range of ticket and fare options are available including using a prepaid go card.
Find the link to the G:link website below, where you'll find a route map, station and destination information, timetables and live service updates, or download the G:link app for Android or Apple .
Find the link to the TransLink website below, where you can plan your journey using trams, buses and/or trains, and find ticket and fare (including go card) information.
If you're planning to park and ride, you'll also find links to information on City car parks and parking meters under Key Information below.
City of Gold Coast is proud to partner with the Queensland Government, the Commonwealth of Australia and GoldLinQ to make G:link a reality, and is pursuing a second stage of the network to link Gold Coast University Hospital with the heavy rail line to Brisbane.